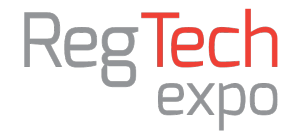 RegTech Expo | 19th November 2020 | East Wintergarden, Canary Wharf
The RegTech explosion has taken the financial services industry by storm. Exploring technology companies involved in KYC, AML, GDPR, AI, MiFID II and Cybersecurity, the RegTech Expo 2019 in association with RegTech Online, will offer professionals including capital investors, senior compliance and technology officers and tech entrepreneurs to network, do business and showcase the lasted products and services within this expanding market. The event is free to attend for professionals within the sector.
There are limited opportunities for companies to present, exhibit and showcase their technologies, however.
Connect with us on Twitter.
Should you be interested to exhibit or feature your business, please contact:
David Reeks
Director
Email: david.reeks@10fourmedia.co.uk
Tel: +44 (0) 1283 815 719
Mobile: +44 (0) 7889 493 054